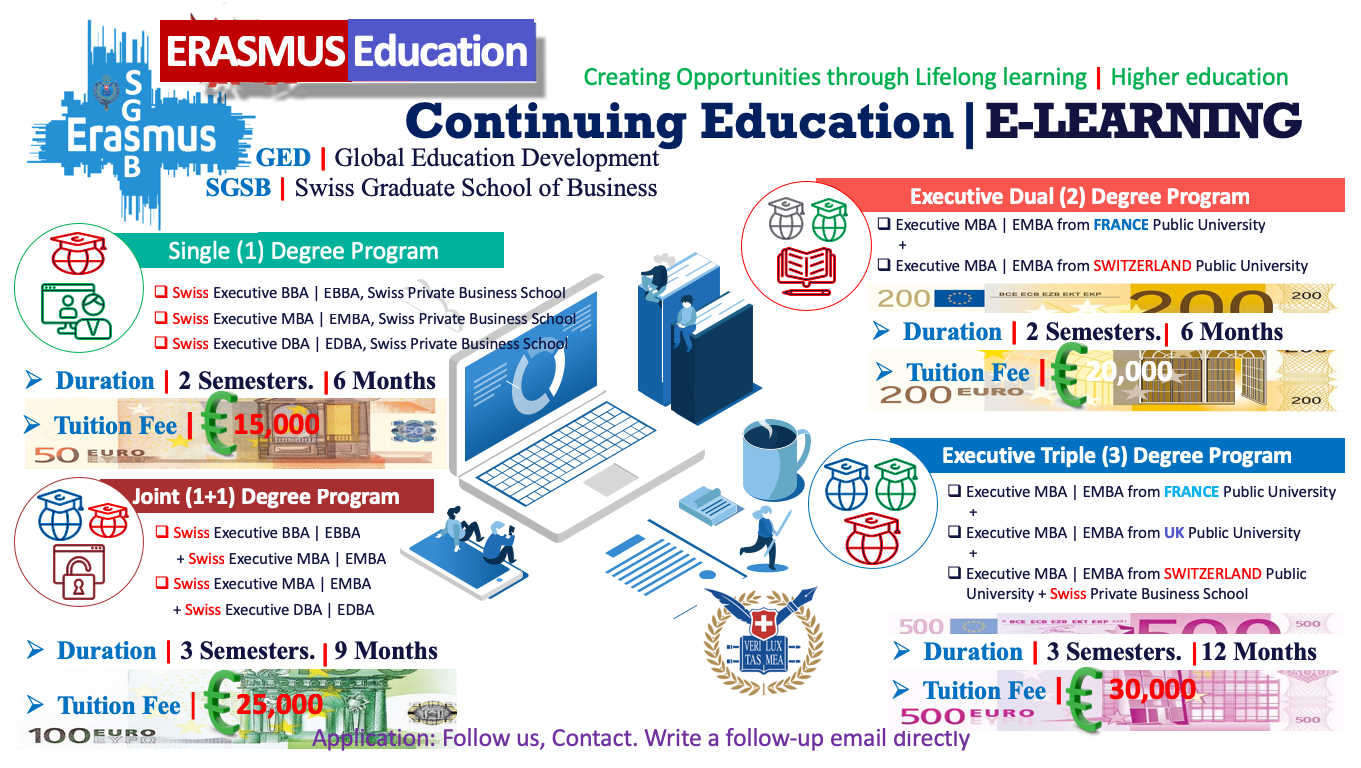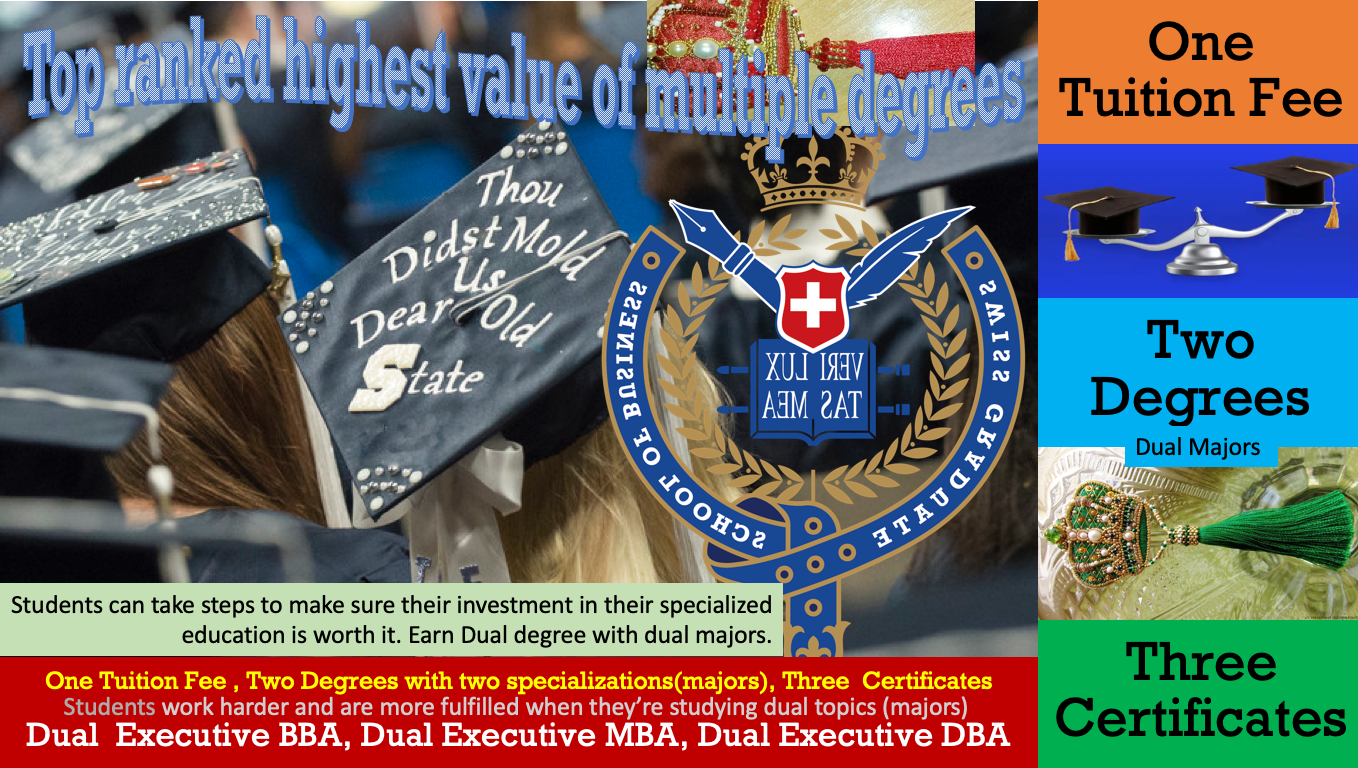 Erasmus EBBA

 
| Executive Bachelor of Business Administration
The Executive BBA 

is a part of an integrated program for students who want to earn a master's or MBA but do not have, or have not completed, a bachelor's degree or equivalent.

The Executive Bachelor of Business Administration (EBBA) 

is 

two semesters intensive program in six months

. This program is designed for working professionals in middle or senior management positions with at least five years of work experience.

This enjoyable and rewarding 

EBBA Programme 

is for men and women aiming to be successful and effective leaders, executives and senior managers; and those seeking promotion to senior positions; and those who wish to become competent, efficient, knowledgeable, respected executives, business people, managers or administrators.  

The EBBA Programme

 

is primarily designed for men and women already in employment, and who are ambitious to expand and increase knowledge, ability and understanding, and to succeed at high levels within their organization; it will also allow and prepare them to take their own businesses (if they are business owners or entrepreneurs) sections or departments to greater success and development. However, suitably qualified men and women who are not currently in employment may also apply and study 

the Executive BBA.

The Executive BBA program 

is available to middle and senior management professionals as an avenue to advance their careers and improve their effectiveness as leaders. This 

Executive Bachelor degree diploma program

 involves condensed versions of complex subjects, such as economics, international business and marketing, and business ethics.
Erasmus EMBA

 
| Executive Master of Business Administration
The Executive MBA

 is conceived to give you the ability to take your career to the next level. You will gain more than expertise in business administration: you will acquire lifelong tools to achieve your ambitions.

You have a professional experience and you want to step up to higher management positions: 

The 

Executive MBA

 is the degree you need. The environment ensures effective and interactive lectures, where renowned professors and practitioners from different countries share their knowledge and expertise.

Organized around a part-time format, with two seminars per month (two-day seminars taking place on Fridays and Saturdays), 

t

he Executive MBA

 offers the opportunity to follow courses while keeping your professional activities. You will gain managerial competences to occupy job positions as international managers.

You will prepare a research project on a business topic in line with your professional activity under the guidance of an academic supervisor and defend it at the end of the program. 

The Executive MBA

 covers 

20

 seminars

 

at the end of the program. 

You can follow courses on new perspectives in management, participate in a business game and prepare a research project in line with your professional activity;

In addition, you have the possibility to complete a study-abroad period at one of our partner universities in Europe, America, Canada, or Australia.

The Executive Master of Business Administration (EMBA)

, a two-semester format designed for senior managers;

The Executive MBA

 

provides mid-to-senior working professionals and entrepreneurs who have management experience with the business knowledge and leadership skills they need to take their careers to the next level.

Terminal-based 

Executive MBA

 

program – not eligible for further study in the main stream program. This

 Executive MBA

 is an alternative educational route for those who do not meet the entry requirements for the main stream program but have work experience and desire to have better academic qualifications. Admission requirements are more flexible in the sense of shorter study periods and cheaper course fees.

The innovative 

6-month curriculum

, taught by world-class faculty, is focused on developing senior management strategy, decision-making, and leadership skills.

Classes take place 

each Friday and Saturday per week

, throughout the program so that students maximize the learning experience while minimizing time away from work.

Admission: restricted to applicants with current full-time employment and significant professional work and managerial experience;
✓ 5+ years of full-time work experience. (Five years of work experience with a minimum of two years at the management level (people, project, and/or budget management experience).
✓ 3+ years in a mid-to-senior management role.
✓ Demonstrated teamwork and leadership skills.
✓ People and/or project management experience.
✓ A recognized undergraduate degree holder, or equivalent qualification.
✓ 8+ years of full-time work experience if you don't have a bachelor degree.
✓ Current full-time employment.
✓ Ability to work in international teams and demonstrated leadership skills.
Erasmus EDBA

 
| Executive Doctorate of Business Administration
Senior-level leaders at large companies who are inspired to innovate
• Senior-level leaders at growth companies who are challenged to scale
• Seasoned and influential executives who are motivated to make a difference
An EDBA is a gold card to executive positions across a wide spectrum of global business fields. You can create knowledge from your experience and your management practices.

Managers, Professionals with successful careers and Senior executives; looking to make a significant contribution to the advancement of knowledge in their area of expertise and transmission of experience. Upper level professionals eager to take a step back from their ongoing professional activities and do research on a specific managerial situation.

With this very high-level diploma, IAE Nice seeks to impact the management community by offering top-notch learning to senior executives from around the world. Our programmes are designed and delivered by researchers and practitioners with close ties to the international business community. 
The Executive Doctorate of Business Administration (EDBA)

 

is 

two semesters

  

or three semesters intensive part-time program in six months

 or nine to eleven months learning periods, as following given circumstances an qualification;
➢Bachelor/BBA and Master/MBA degree holder with minimum 10 years professional experience, obtain 2 semesters, 6 months, 60 ECTS
➢Only Bachelor/BBA degree holder with minimum 15 years professional experience, learn 3 semesters, 9~11 months, 90 ECTS, will obtain an Executive MBA and Executive DBA degree diplomas
The candidates are pre-selected based on the following 3 cumulative criteria:
Necessary pre-requisite to be eligible: to have been awarded a Master's degree or equivalent

Academic results and distinctions

Quality of professional long-term executive level background

English proficiency
Following examination of the application, pre-selected candidates will be interviewed.
During the interview, you will be requested to present your research project. 
Candidates in continuing education: must hold a degree equivalent to 4 years of higher education and have at least 10 years professional experience and must satisfy specific application criteria