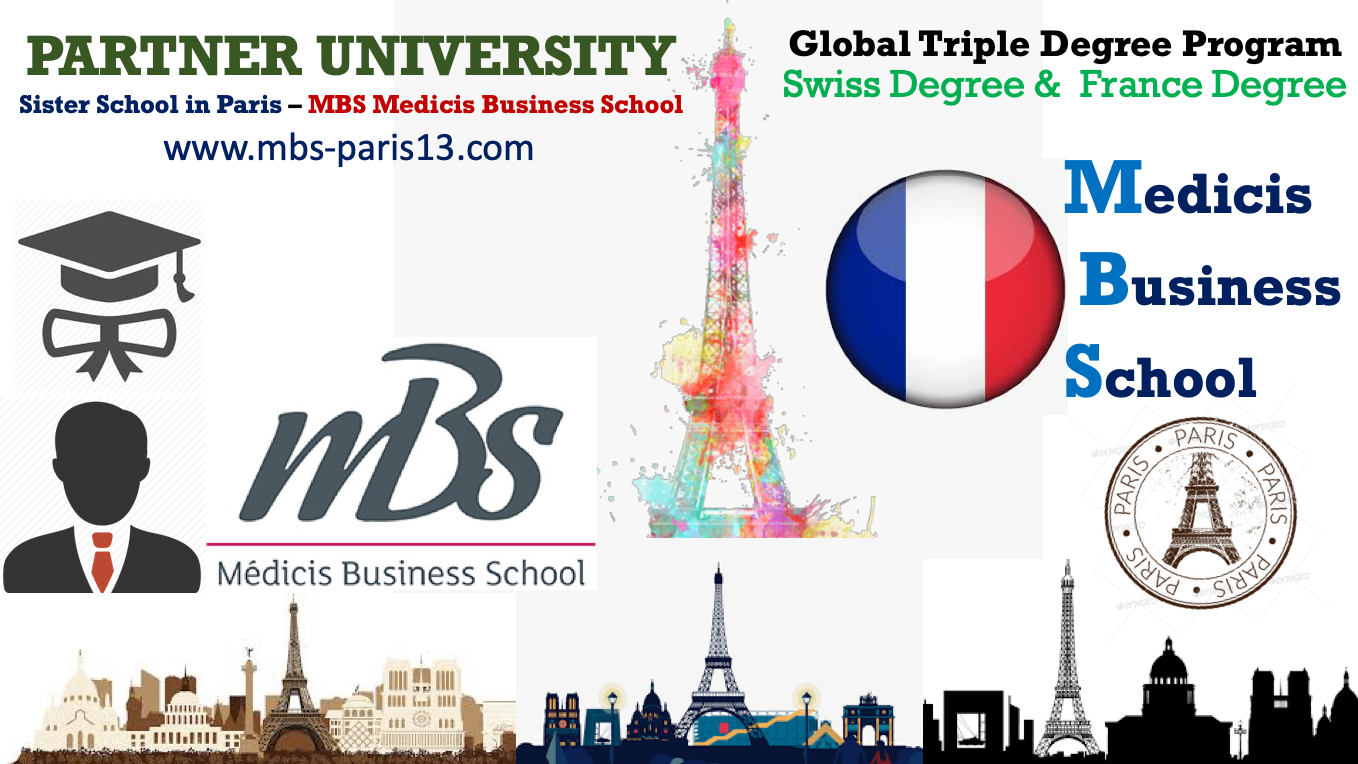 Global Partner Business School : MBS Paris XIII, M

é

dicis Business School (www.mbs-paris13.com)
and
Swiss GSB – Swiss Graduate School of Business (www.sgsb.swiss)
MBS Paris XIII – Médicis Business School (www.mbs-paris13.com) in Paris, France has developed compacted partnerships with leading global universities and transformed sister school relationship with Swiss GSB – Swiss Graduate School of Business (www.sgsb.swiss)
These inter-school relationships counterpart with the Advanced Management Program (AMP), Asia Study Tour, Europe Culture Study Tour with a business seminar lectures, company visits by Swiss GSB Switzerland and MBS Paris XIII France offer exclusive opportunities; a unique occasion to share impressive Extracurricular Activities of Study Tour for several leading companies' technical visits, experiencing and learning cross-cultural knowledge with practice aimed at international students from both campuses.
MBS Paris XIII – Médicis Business School (www.mbs-paris13.com) in Paris, France and our sister institution Swiss GSB – Swiss Graduate School of Business (www.sgsb.swiss) in the region along the lake Leman, Swiss Riviera in Switzerland are contributing the privileged network and global triple degree studies for our students as a bridge to connect them towards brightening future and success.
We are awarding immerse in various majors' certificate Executive Program, Advanced Management Program, Swiss Dual degree, Global Triple degree, International Quadruple degree and sharing cultural events, participating in exchange degree & certificate programs and also operating international students to overseas study tours.
Visit and have unforgettable memories our rich outdoor activities, major industry visits nationwide in Switzerland and Paris in France, Swiss Grand Alps Excursions, Winter Ski-Tours, various Leisure and Recreation activities after school, and distinctively organizing several extracurricular activities.
For your fun and encouraged Global Triple Degree Program from Swiss GSB Business School and MBS Paris XIII – Médicis Business School are waiting for you.
Save your precious time and esteemed capital, earn honored Global Triple Degree Diploma with cost-effectiveness and time-efficiency for the most constructiveness and productivity.
Apply and accomplish your multiple degrees with us. Your success is reserved and assured.
Warmly welcome!