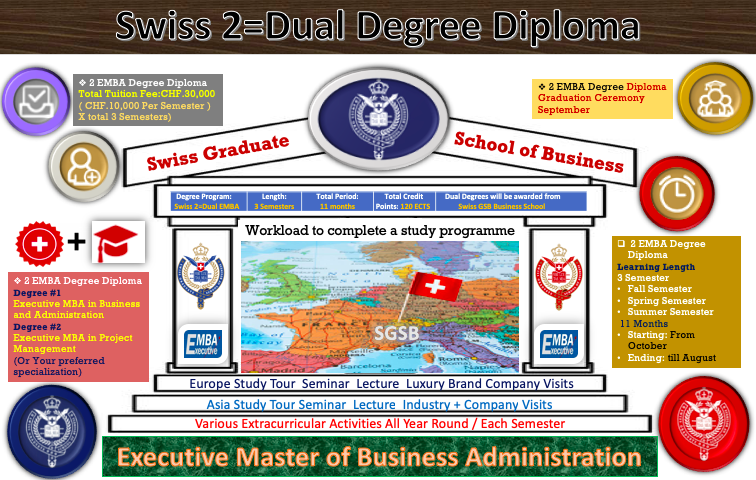 Swiss Dual EMBA Degree Title
Executive Master of Business Administration | EMBA

The Swiss Dual (2) EMBA degree diploma




Earn EMBA Degree One: Swiss EMBA from SGSB Business School
With a specialization
Earn EMBA Degree Two: Swiss EMBA from SGSB Business School
With a specialization
One Price for Two EMBA Degree Diplomas

This is the most suitable degree program for the students who have not completed a BBA, Bachelor's degree or equivalent.
Duration | Learning Period
The Swiss Dual Executive MBA: Eleven (11) Months Program

Two Degree in 3-Semester, within one Year

The Swiss

Dual EMBA (With 1+1=2 Double Executive MBA Majors)
Totally 90 ECTS: They comprise 90 ECTS credits are organized into modules and lead to an academic degree with full access to the SGSB Business School




Course work/Researching work: 90 ECTS

Thesis/Business Plan:

Thesis or Capstone (*Master's thesis worth 15 ECTS credits in the subjects covered by the compulsory modules.)




Thesis length: Generally, between 20,000 – 40,000 words.

Only one Thesis or Business Plan for 2 EMBA degree diplomas

Extra Credits: SGSB Extracurricular Activities, Various Multiple Extracurricular Activities | EA will be organized during the period of 3 Semesters.

1 EMBA (2-Semester = 60 ECTS Credits) + 1 EMBA (1-Semester = 30 ECTS Credits)

Only 1 Thesis (Business Plan Project = Value of 15 ECTS Credits)
EMBA Thesis | Business Plan – Capstone Project
Qualification and Educational Objectives
Written Assessment

– Capstone Thesis Research and Writing: 90%
Capstone Thesis, approx. 40~80 pages.
An Executive MBA's thesis is generally 40-80 pages, 20,000~40,000 words count will create about 40~80 pages single-spaced or 80~160 pages double-spaced when using normal margins not including the bibliography. However, the length will vary according to the topic and the method of analysis, so the appropriate length will be determined by you and your committee.
Oral Assessment

– Capstone Thesis Oral Defense: 10%
Capstone Thesis Defense including Q & A, maximum 60 minutes
Duration/Working Hours

: 450 Hours
Research/academic writing of Capstone Thesis and Capstone Thesis Defense
Thesis ECTS Credits Points

: 15 ECTS
Percentage of the Grade Relative to the Final Grade for the Program: 25%
15 ECTS from typical One (1) single EMBA 60 ECTS = 25.00%

15 ECTS from Swiss Dual (2) Executive MBA(EMBA) 90 ECTS = 16.7%
A capstone project is a culminating activity that allows Executive MBA students to demonstrate the knowledge and skills they have acquired during their EMBA studies. It engages students in a project that focuses on an interest, career path, or academic pursuit that synthesizes different components of their master studies and applies them to a real-life management perspective. It can take the form of a business plan or consulting project
The module capstone project consists of two components: a capstone thesis and a capstone thesis defense. Students will indicate that they are capable of applying their key knowledge and skills to one or more area(s) of personal interest and/or managerial issues, by planning, completing, and presenting a capstone thesis under the supervision of an academic supervisor.
Students should be able to critically analyze and solve practical problems by applying academic research methods which strongly support the real-life management decision processes.
During the capstone thesis defense students have to present their project findings and demonstrate that they are not only capable of independently producing a capstone thesis but also that they can justify their findings and recommendations in accordance with academic and managerial requirements.
Start Dates | 3 Semesters Per Year
Fall semester – October.

Spring semester – February.

Summer semester – June.
SGSB's Executive MBA Programmes are offered in English.
Structure | Study Types | Class Style Options
The Swiss Dual Executive MBA is usually a part-time program intended for applicants with more work experience. an EMBA is intended for busy professionals and more of a chance to continue your education with other professionals. You don't have to quit your job to study. It does offer more flexibility.
Option #1. On Campus / Part-Time Attending In-class, OR

Option #2. Off-Campus / 100% Only Home Researching Project, OR

Option #3. On and Off-Campus / Distance Learning by Course learning, Case studies, Assignments and Oral Presentation in Class, Evaluation Exams per semester in Class.
Candidate's' Qualification
If you have the work experience to qualify, then an EMBA may be a better investment for you than a regular MBA, especially if it comes with a promotion and a salary increase.

Will be demanded to have the work experience as a manager level or higher and more than five (5) years of professional background to qualify, then your EMBA program may be a better investment for you than a regular MBA, especially if it comes with a promotion and a salary increases.

Presently an age of minimum 25 years old and above. Available to current and future executives, managers, and supervisors, senior management positions – at least professionals in middle management positions who have at least five (5) years of work experience (mandatory, no optional).

Will be required copies of degree diplomas and transcripts from your undergraduate and/or graduate studies.

Will be exceptionally accepted, case by case, an applicant who holds only a high school degree diploma or the same qualification with more than ten (10) years of work experience will be available to current and future executives, directors and supervisors; currently professionals in middle or senior management positions (mandatory, no optional).

The European Triple EMBA students and today's business leaders' educational opportunities that expand career options and foster professional growth.

Will be available to obtain your EMBA through optional learning methods ;

Part-time attending, Weekend attending, Distance & online (without attending), Research-based or dissertation-based (without attending), and Capstone-business project based (without attending).

The Swiss Dual EMBA program doesn't require you to take the GMAT.
Since EMBA courses are not full-time programs, you may not be eligible to apply for a student visa for Switzerland. Only full time MBA degree program applicant will be received a student permit in Switzerland.

An appropriate visa or study permit for your country of study

Many EMBA programs have international travel components, so even if you decide to study in your home country, be prepared to travel abroad for exchange programs and other learning modules by having a valid passport and travel documents ready.
Swiss Dual EMBA Diplomas and Certificates Awards
From SGSB – Swiss Graduate School of Business, Switzerland.
At the Graduation Ceremony: Mid-September each year.
Will obtain Dual EMBA degree diplomas with dual specializations
Benefits / Advantages of Seeking a Swiss EMBA
One big advantage of enrolling in an EMBA program is that you don't have to quit your job to study.

If you have several years of work experience and have a good relationship with your employer, they may even be willing to pay for your EMBA degree.

Another benefit is that you may not have to relocate to enroll in the program. While MBA students can choose from schools all over the world, you'll have to find a program close to your current employer if you want to enroll in an EMBA.

While this limits your opportunities, it also means that you don't have to spend time away from your friends and family and get used to a whole new location.

Most EMBA programs don't require you to take the GMAT.

EMBA programs care more about your work experience than they do about your test scores.

The EMBA at the SGSB Business School is taught in English and is extraordinarily well-suited to high potentials seeking interdisciplinary executive management training.

It is available as both a part-time and researching distance learning program.

You can complete the researching distance learning version alongside your professional career without leaving away from your life with your job and family.

The Executive MBA program that allows professionals to continue to study for their higher degree.

Through our learning methods by Researching distance degree program or bi-monthly weekend learning program offer you the maximum flexibility without wasting time, without wasting money.

You can work, keep your job and live your life with your family while studying.

With this outcome, your future career will open to earn continuously higher educational degree for a DBA, EDBA or Ph.D.

Executive education means more than simply winning a promotion. Upon completion of the Executive BBA program, participants will be prepared to excel in any professional setting, gaining an advanced understanding of the following essential concepts:

The program offers the opportunity to learn not just from instructors, but from classmates as well. From improved problem-solving techniques, goal-setting, planning, and productivity tactics to communication, graduates will be well-prepared to offer confident, informed business leadership.
Modules and Program Curriculum
Students in the Executive MBA program will take a diverse selection of courses (after having selected your specialization among 12 listed majors) that support effective decision-making, management, and relationship building.
Your application should include:
Completed and signed application form, request to

graduate@sgsb.swiss

One sponsor's letter of recommendation, and/or

One general letter of recommendation, recommendable from your former professor(s)

Bachelor or BBA degree diploma

Transcript of Bachelor/BBA degree

A copy of passport
In exceptional cases, applicants/candidates without one of these degrees of university, first degree like Bachelor or BBA, EBBA, Master, MBA may be carefully examined and admitted to the Swiss Dual Executive MBA degree program by the Academic Dean.
Write directly to the dean

dean@sgsb.swiss

, and

graduate@sgsb.swiss

A letter of Motivation, purpose of learning program EMBA

Minimum two letter of recommendation

A letter of self-introduction

A copy of passport

Resume / CV (including educational background and professional career)

Any Professional Achievement: These candidates must demonstrate significant professional achievements.

Interviewing or any communication with SGSB Academic dean

The Swiss Dual EMBA program doesn't require you to

take the GMAT

.
12 Specializations | Majors
For those interested in extending their program to earn an Executive Master's
degree with an area of specialized emphasis, we offer the following concentrations/specializations:
If you're an educational professional who are looking to progress into management and consultancy, or an educational planning or development role, above specialized majors are the best degree for you.
Provided by the SGSB, Private Business and Management Institute of Education, with our 15 partner Universities, Business Schools, this program is also available by distance learning, allowing you to study flexibly while balancing professional work and personal life.
The Swiss Dual Executive MBA is a broad-based program offering an in-depth perspective on business and management.

Students complete six modules structured to combine theoretical concepts and application within one year.

Each semester comprises two modules, while each module includes four courses for six to seven weeks of study.

Our modular structure and virtual learning environment provide:
Transfer credits for graduate coursework at accredited institutions

Flexible scheduling and program entrance

Affordable tuition and payment plans tailored to your needs
This dynamic academic approach allows us to provide a flexible learning environment that accommodates the needs of busy professionals.
Swiss 1+1 EMBA Degree, But Only 1 EMBA Tuition Fee
Combine an Executive Master's degree with SGSB one-year EMBA
Only 1 Thesis, 1+1 Specialization, Plus 1+1 Highly Qualified Swiss Certificates
Per Semester: CHF. 10,000 / Semester (Fall, Spring and Summer semester)

Total: CHF. 30,000 / 3 Semesters / 2 Degree Diplomas with 2 Certificates

Optional Instalments: Payment Schedule;
Joining a Swiss Dual Executive MBA program is an investment in your future and it will continue to pay dividends throughout your career. At the SGSB Business School, the cost of the one-year Swiss Dual EMBA program for the class entering is CHF. 30,000
Tuition Fee: Sfr, 30,000 for the Swiss Dual EMBA degree with double majors.

Note: 

Study Tuition fee does not include application, Thesis fee for coaching, supervising and oral-presenting, graduation ceremony fee, a Swiss notary seal and signature fee, reservation fee to guarantee you a study place, onetime payment and non-refundable.

Application: Sfr. 100

Registration Fee with your unique matriculation number: Sfr. 100

Thesis Fee: Sfr. 500 (Coaching, Supervising and oral-presenting)




Thesis length: Min.15000~Max.18000 words

A Swiss Notary Signature and Seal Fee (On your Degree diploma): Sfr. 150

Graduation Fee: Sfr. 150

Acceptance and Deposit Fee: Sfr. 3,000 (will be deducted from the total tuition fee) after having received a letter of Acceptance. To reserve a place in the program once admitted, you are required to submit a nonrefundable deposit of Sfr. 3,000, which is applied to the first year's tuition and will be deducted. Complete information regarding fees and payment schedules will be provided in the acceptance materials.
Option 1: Through Researching Program /100% Distance Learning, Thesis work

Option 2: Part-time attending Program / 60% In-Class Learning Bi-Monthly Module, 25% Home Assignment, Assessment, 15% Writing Thesis or Business Plan

Mandatory: Compulsory to participate and obtain your valuable degree diploma at the graduation ceremony hall.
The Swiss Dual MBA for Executives Program Scholarships
The Swiss Dual MBA Program for Executives awards several scholarships to incoming International students.

These funds are based on the individual and the applicant pool as a whole.

Your scholarship application is necessary, require scholarship form by email.
SGSB Is More Than Just A Business School; A Great Place For Education, A Great Place To Be, A Great Place To Learn, Choose The Right School For Your Scholarships.
SGSB Acad

emic Excellence Scholarships

Research Scholarships

Distance Learning Scholarships

Tuition Free Research Degree Scholarships

International Exchange Scholarships

International Research Cooperation Scholarships

Alumni Scholarships

Family Scholarships

International Project Scholarships

Academic Merit Scholarships

Community Role-Model Scholarships

Scholarships For Extracurriculars

Need-Based Scholarships

New Transfer Scholarships
Once you applied, the most suitable and qualified scholarship will be evaluated and examined by our organizations and following departments:
CED – Continuing Education Department

DEAN – SGSB Academic Program Dean

HEAD – Higher Edification Ability Development

ICES – International Center of Economics in Society

GED – Global Education

 Development
How to Apply:
You must contact 

executives@sgsb.swiss

 or 

graduate@sgsb.swiss

 to request your application with your information; then submit individual applications for the Swiss Dual Executive MBA's degree and the EMBA program department before the relevant deadlines.
Application Deadlines (for Swiss 2=Dual Degree):
15 August for Fall semester: Begins October each year

15 January for Spring semester: Begins February each year

15 May for Summer semester: Begins June each year
Q. Will Executive MBA help my career?
Executive MBA programs are designed such that the time commitment is in accordance with the job timings of a working professional. For the 2 year course one will have to stretch and adjust time here and there but in the long run Executive MBA will help you with career growth and promotion.
Q. What is the difference between an MBA and an Executive MBA?
Though the length of both a full-time MBA and an executive MBA will vary by school, the principal difference is that the EMBA is part time and designed to accommodate working professionals. … Full-time MBA students, by comparison, have such demanding schedules that maintaining any job outside the program is discouraged.
Q. What do you mean by Executive MBA?
An Executive MBA, or EMBA, is a graduate-level business degree. This program is a lot like a regular MBA program. The main difference is that an executive MBA program is primarily designed to educate and enhance the careers of working executives, managers, entrepreneurs, and other business leaders
Q. Is an executive MBA worth it?
The benefits of an EMBA degree are plentiful. Students typically continue working as they complete this b-school degree, earning while they learn. Almost 40 percent receive a promotion while in the program. After graduation, EMBA-holders can see a drastic increase in lifelong earnings.
Q. Who is eligible for executive MBA?
Eligibility to Pursue Executive MBA Program

Generally, Candidates must have completed a bachelor's degree in a relevant discipline with at least 60% marks. Candidates must hold a minimum work experience of 3 years.
Q. Is 40 too old for Executive MBA?
It's not about age but about your professional maturity, readiness, and the point in your career that count. These things can often be linked to age, but not always. 32-33 is not too old for an Executive MBA if you can convince the admissions committee why is this the right time for you to do an EMBA. It's for executives age between 30 to 50 years old.
Q. Is executive MBA a degree?
An EMBA, or an Executive Master of Business Administration, is normally 1~2 years program, but it's aimed at business executives with five years or more of managerial experience. The average age of students is 38 years old. EMBA students keep their full-time jobs and typically attend classes on Fridays and on weekends
Q. Which is better capstone or thesis?
They both follow a similar basic format and represent a scholarly effort of high quality. However, practice-based programs can use a capstone project to emphasize preparation of the student for professional practice. In contrast, a thesis is an academic-focused research project with broader applicability.
Q. How many words should an EMBA thesis be?
A Master level thesis is "normally" between 20,000 – 40,000 words, with an upper limit of 60,000. Different guidelines apply for a Master with a practice-led component.
Q. How many pages is 40000 words?
40,000 words count will create about 80 pages single-spaced or 160 pages double-spaced when using normal margins.
Q. What is an executive MBA degree program?
An executive MBA is a professional business school degree that is typically offered in a convenient, part-time format, which allows you to continue working while you attend school.
Q. Is Executive MBA worth doing?
More than the money, EMBA programs provide an opportunity to grow on the job. Because they attract working professionals, you can immediately utilize what you learn. For those who want to become better at what they do or make a career transition, an EMBA can be invaluable.
Q. What are the advantages?
With an Executive Master with honors, your chances in order to be accepted for the DBA, Executive DBA degree program are usually higher and it will help you to find a better job. If you don't want to do a thesis or your business project(capstone), you will be awarded the non-honors Executive bachelor. Recommended to do it.
Q. ECTS Credits: What are They?
The Swiss Rectors' Conference has precisely stipulated the workload required for completing executive education (CAS, DAS, MAS).

This is quantified by a minimum of ECTS (European Credit Transfer System) credits necessary for the completion of each degree.

One ECTS credit corresponds to a workload of approximately 30 hours of study.
Q. Is executive MBA a master's degree?
What Is an Executive MBA (EMBA)? Executive master of business administration is a degree program similar to a master of business administration (MBA) program but specifically designed for corporate executives and senior managers already in the workforce.
Should you have any questions regarding specific programmes, or majors, we will gladly refer you to the relevant program manager or advisory service.

Our experts will help you pinpoint the best way to pursue your educational needs.
There is simple way to get into contact with us.

For your consultation, simply contact your department. You can always write us an email at;
or